Breakup Paintings - a series of paintings 2006/7






Breakup: The end of an Alaskan winter,
when the ice that has frozen the major rivers melts.
Breakup: The termination or disintegration of a relationship.



shown at Boltax Gallery, Shelter Island, NY 2007
thirteen paintings, started August 2006 / finished Jan 24 2007.
acrylic on canvas 72" x 53" (182 cm x 134 cm)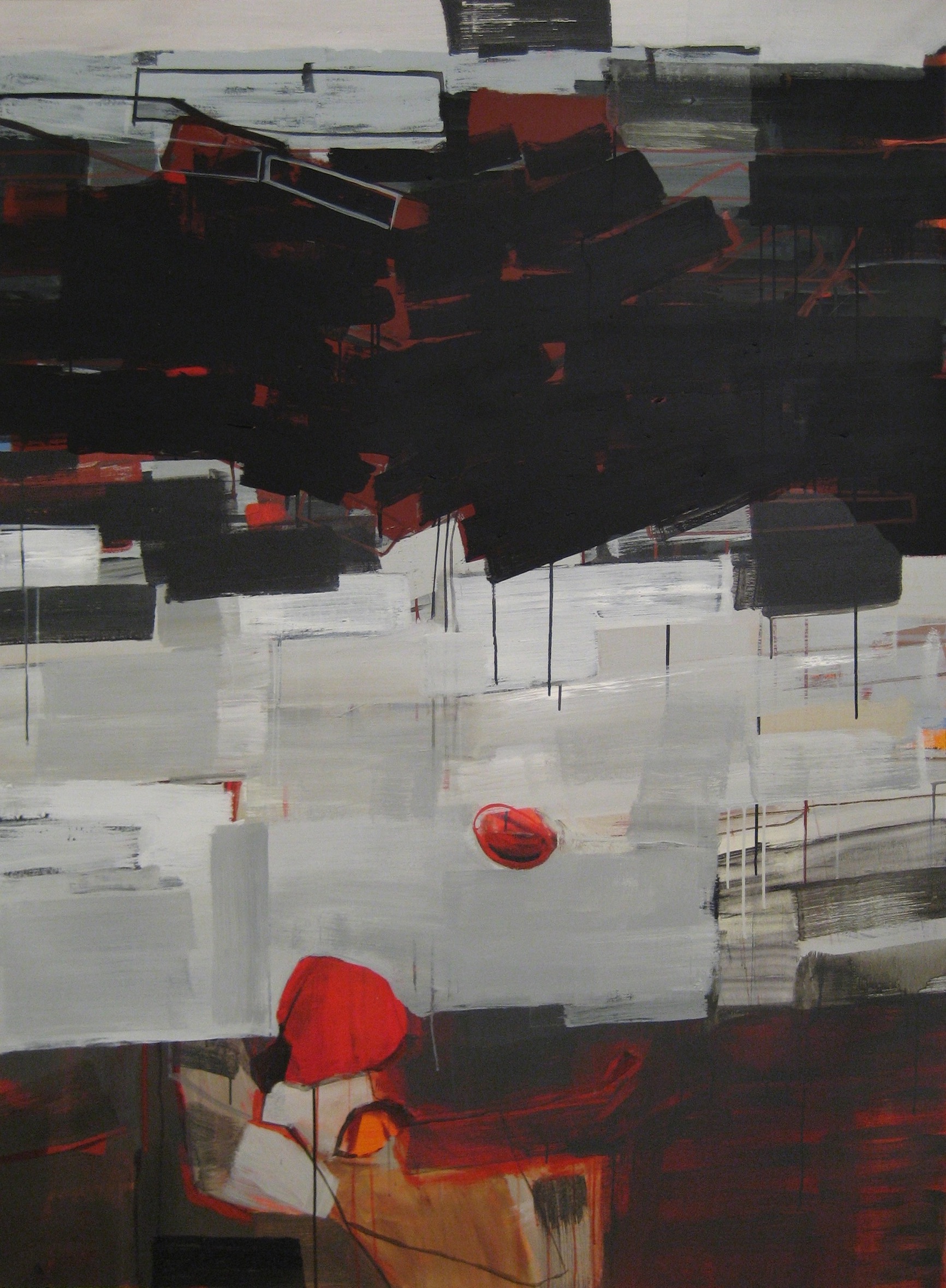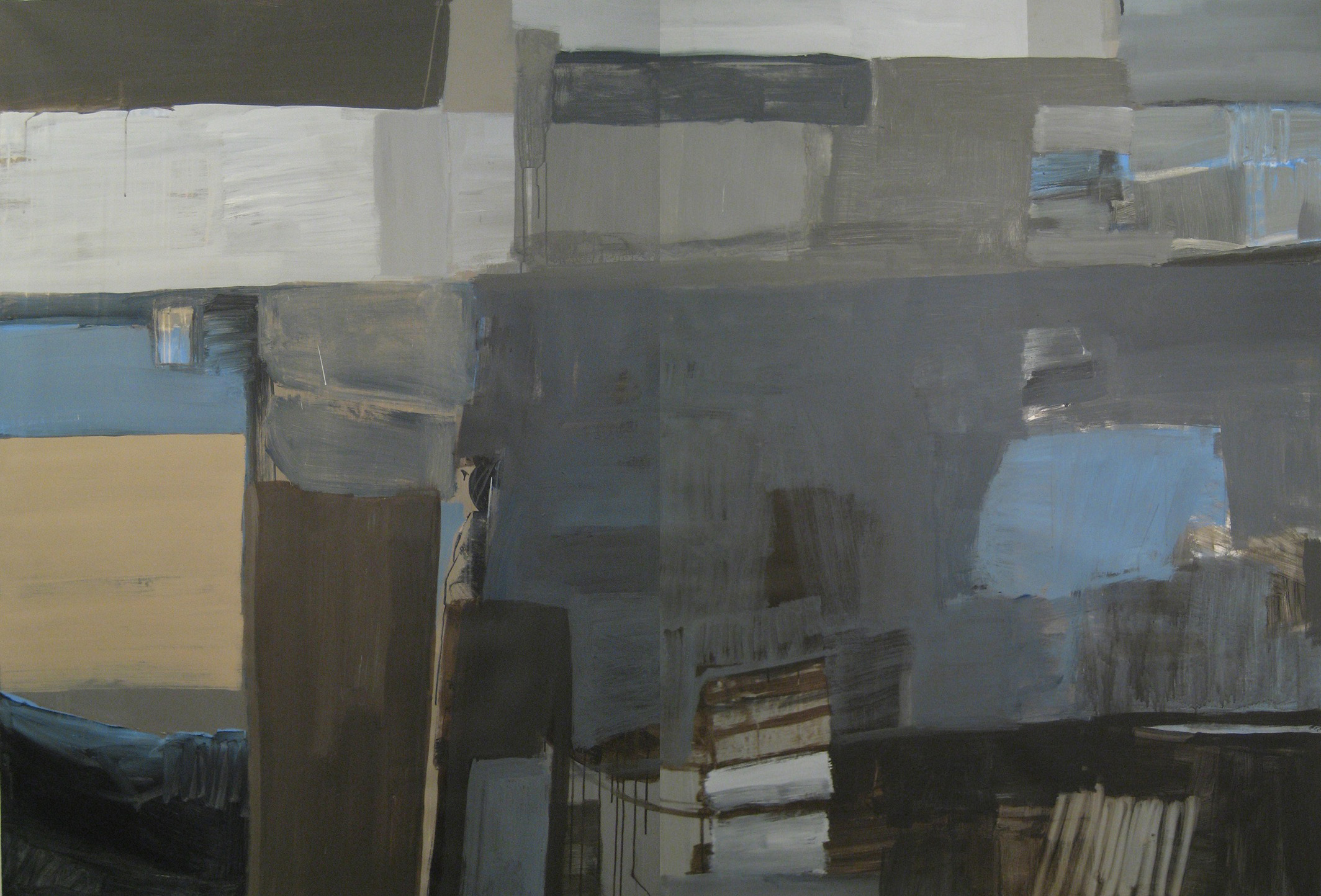 Breakup 9 - November 22 2005 (private collection)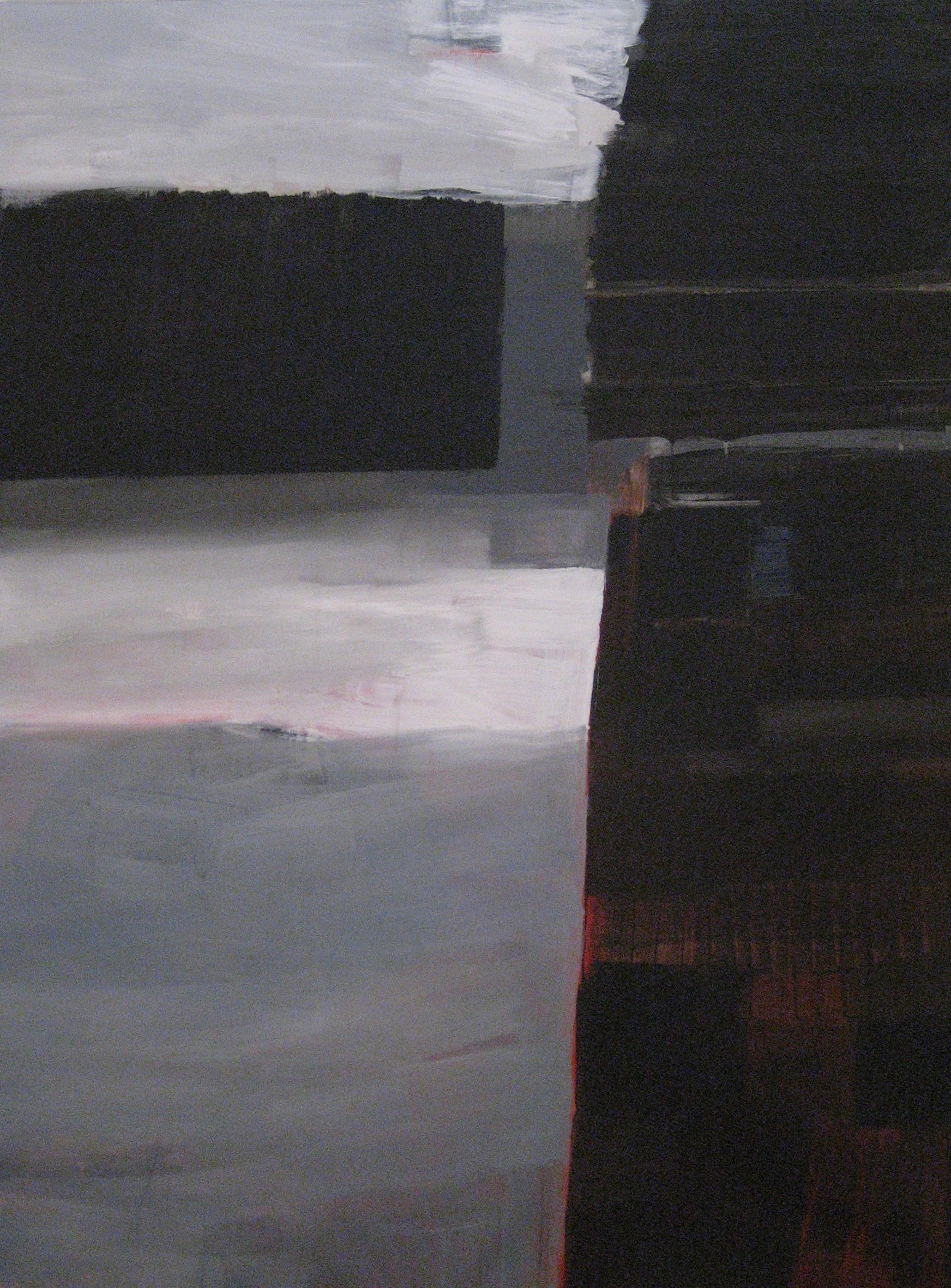 Catalog Essay: by Ariel Levy

In a way, the end is as good as the beginning. Once it has become a memory, that is. While it's happening, the breakup is agony. It's a vibrating grief so strong, sometimes you can't imagine how you can tolerate it. It's a pain that meets you in the morning and sleeps next to you in bed, where there used to be that other person, the beloved. While it's happening, all you can do is wait and wait and wait for it to pass, and try to quiet your suspicion that it never will: that you will be haunted by the pain of this lack forever.
But then, eventually, inevitably, you become whole again. It's really over-- not just the relationship but the mourning of its demise. Perhaps you still see that person who was once the object of your love, and then the object of your grief; perhaps you don't. It doesn't matter. The euphoric beginning and the excruciating end of the romance are behind you now, and once they are safely relegated to memory, they both have a certain atmospheric magic.
Because it's the breakup as much as the honeymoon that intensifies the experience of being alive. You are dizzy with feeling, not quite yourself. Such was the state in which Nuala Clarke began this series, her "baker's dozen" of Breakup Paintings.
Born in Dublin in 1970, Clarke was raised in a seaside village outside the city by her father Pat and mother Brid Clarke, also a painter. After she graduated from the National College of Art and Design, Clarke moved to New York City where she'd already spent a summer working at Sin-é, an Irish music cafe on Saint Marks Place. It was at Sin-é that 23 year-old Clarke met Jimmie James.
A painter 15 years her senior, James was the man with whom Clarke would spend the next twelve years of her life. In the spring of 1997 they sold all their possessions and left New York for a life on the road in a bright orange van.
Not only did they both paint everywhere they went, they painted together--one easel, one canvas, one palette... Their artistic and emotional collaboration remained successful for over a decade. The paintings they made together were exhibited here on Shelter Island at Boltax Gallery in a show called "OnePlusOneEqualsThree" in 2005. Their last show together was in Chelsea in March of 2006. They broke up that same month.
At first, Clarke says, she was frustrated with painting. "I couldn't finish anything. Then I realized I'd been avoiding the issue." What followed was a year of painting through the vivid psychic landscape of separation, loss, memory, and possibility. Some days, Clarke found herself "reckless and overly excited," crackling with liberation. It was a period of intense individual productivity. "Once I started reducing the colors," limiting herself to a palette of oranges, grays, and blues, "it became limitless," says Clarke. In the sprawling diptych "Breakup 9," we see an ocean of emotion, both terrifying and comforting in its swallowing size, like the ocean that is marriage itself. Although Clarke points out that she and James were never married; "that pressure point never came up" for them.
But twelve years is a long time to live and paint together, and this work is a record and exploration of what falls away when such intimacy ends. Clarke says that she had another definition of "breakup" in mind as she painted, though: the splitting of ice that occurs at the end of an Alaskan winter, when rivers melt and the deep freeze is finally finished.
In essence, spring.



Review: East Hampton Star, Opinon
Breaking Up is Hard to Do By Jennifer Landes
(05/15/2007)

An exhibit of Nuala Clarke's "Breakup Paintings," at the Boltax Gallery on Shelter Island is tricky stuff. It's the kind of theme that can send many of us running for the hills (or at least turn back from the ferry), wary of some overblown, sticky emotional retching that erupts from a brush onto canvas, like a Tracey Emin installation in paint.
There is, undoubtedly, some of that in the mix here, but these 13 paintings stand well on their own as accomplished nonobjective abstraction. It's the context that gives the viewer a way in and adds more resonance.
The dissolution of a relationship can be emotionally devastating, like a death where both parties live on. Some, even years afterward, have the power to haunt with some trivial reminder acting as a blunt instrument of momentary relapsed torture. But eventually, and in some cases immediately, the glimmer of new possibilities with freedom emerges.
Here, Ms. Clarke, who suffered the breakup of a 12-year partnership with Jimmie James, lost not only her lover, but her creative partner as well. Mr. James, who is also a painter, and Ms. Clarke spent some of their time together painting on the same canvas, even at the same time for a period. The artists painted and showed their work together until March 2006 when their last exhibit was in a gallery in Chelsea. It was then that they also broke up.
Ms. Clarke tried to paint again, but only came up with false starts. It was not until she realized she had to work through the emotions she was experiencing, addressing them directly in her art, that she could move on.
And here they are, painted between last August and January, a dark night of the soul confronting the recklessness and excitement of liberation. Painted at some remove from the rawer emotions at the beginning of the process, the colors are deep, but in the flatness of acrylic. This was a good choice. Oil's depth and glossy prettiness would have been too much for these works.
In most cases, the gallery has lighted the work intensely, even in an already bright space, but with a satisfying result. The paint, even the greenish blacks and beiges, seems more alive and palpable. The artist often paints in layers that reveal themselves intermittently through the darker or thicker overlays.





Red and hot orange expose themselves consistently through the first eight paintings. Sometimes they are rectangular patches or round blotches the artist refers to as "holes." "Breakup 1" is composed of large swaths of swampy green and black with a crackle of red emerging in patches like an interior wound.
The second work is predominantly taupe painted over orangey red. Just off-center, a precarious stack of black patches stands like a towering Jenga game. The early works vary between vertical and horizontal emphasis, feeling rural and open in some examples and tighter and urban in others. Each is titled Breakup with a corresponding number.
Only two are subtitled. Number 8 is called "dirt on your hands and dirt on my hair" and has a corresponding muddiness in the lower portion and a patchwork of atmosphere in the upper reaches. A dark blue orb or "hole" feels like an homage to Adolph Gottlieb in the top portion, a black sun or soul rising.
The second subtitled painting, "Breakup 9 (nov 22, 2005)" from 2006 has all of the patchwork of paint swatches that the other works display, but seems more familiar as a landscape or allusion to a waterfront. The layers this time are expansive and the overall feeling is more open and inviting even in the overwhelming grayness. It feels like the sea or a scene from memory Ms. Clarke is trying to piece back together.
This painting appears to act as catharsis, allowing new compositions to emerge in its wake. "Breakup 10" has a slightly Rothko-like layering with light breaking in whiteness along the horizon between a smoky atmosphere, giving a sense of possible transcendence.
The next paintings also tend to be more open and "Breakup 12" has a cleansing wash feel to it.
"Breakup 13," the last painting of the series, is ambivalent. Darkness is still prevalent, but it is now tinged with lighter shades of gray. Here there is no Hollywood happy ending where an earnest Luke Wilson shows up and makes everything go away. This denouement is a truer reflection of life where good days can follow average days, but bad days may be just as common.